About Us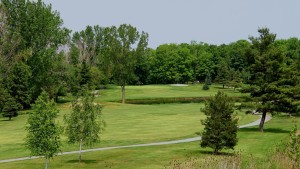 Spectacularly set against the towering cliffs of Mount Nemo on the Niagara Escarpment, Mount Nemo Golf Club (formerly Indian Wells Golf Club) ranks as one of the most scenic and enjoyable courses in the GTA. Playing though rolling terrain and tree-lined fairways, golfers are treated to many breathtaking views of the surrounding countryside over the course of Mount Nemo's championship 18 hole layout.
The course first opened for play in 1973 and was professionally designed by Rene Muylaert. Muylaert constructed a course where a dangerous array of water hazards, ravines and wooded areas come together to create a truly memorable golfing experience. Almost every shot you make here will require accuracy and skill to keep yourself in contention for par. While not an extremely long course, this par 71 is the perfect destination for the eager golfer who is looking for a deceptive and seriously daring course. Despite the high level of challenge, this course has an ability to please golfers of all skill levels, and you will find its dramatic setting and views can make you quickly forget even the worst scores. This is one of the finest Burlington golf courses.
Playing Mount Nemo Golf Club
6216 yds from the back tees, par 71.
Course management is the key to scoring well at Mount Nemo Golf Club.  Accurate tee shots are of extreme importance and long ball hitters with errant tees shots will be severely punished.  The front nine challenges the golfer with ponds coming into play on six holes, and the back nine presents narrow fairways and deep mature forests. No swinging away, Mount Nemo Golf is truly "target golf".
The best chance for birdie or better comes at the first hole, a short par five, with no water, a wide fairway, and spread out trees which can be hit in two shots. Perhaps it is possible that Rene Muylaert was trying to give the golfer some confidence, or false security, because after that there are no more easy birdies.
Besides dealing with all the hazards, golfers must also beware of the Niagara Escarpment. Sometimes putts will break much more or less than one expects as the layout of the course on the hillside below the escarpment may create an optical illusion. The 10th hole is the perfect example where three and even four-putts are quite common as putts break severely away from the cliffs above.
The Signature Hole – Hole #16
The 16th hole has been called "The Greater Toronto Area's Supreme Short Par 4" by The Toronto Star's Bogey Man. It is one of the prettiest and toughest holes at Mount Nemo Golf Club. It is a 325 yd, dog-leg left which winds its way form an elevated tee, throughout a well-treed valley, back up to a very tricky elevated green. It is a hole that you are not likely to forget.